REMIX By ATIKA | Interview with Amber
Amber for REMIX By ATIKA

We recently had a photoshoot in ATIKA and around Shoreditch with Amber to showcase our latest pieces. Then, we caught up with her afterwards to get to know about her personal style, where she gets her inspiration, and her thoughts on current trends.
What is your favourite REMIX piece and why?
My favourite are the Cargo Reflective Trousers just because I really like this detailing and I really love cargo trousers.

Where do you get your style inspiration from?
Obviously, Rihanna! Also, I'm quite a fan of IMDDB and her street style and Terin Taylor. I follow quite a few fashion bloggers on Instagram and then take a screenshot.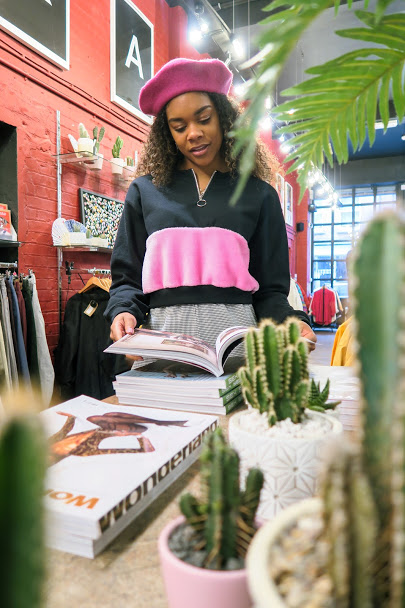 What is your go-to outfit when you do not know what to where?
Well, when it's cold I will probably just put on a hoody. I wear a lot of baggy oversized jumpers and t-shirts and some jeans. That's pretty much it!

Do you shop sustainably?
I try to. I mean, when it comes to clothes it's a bit harder. But, other things like food and I won't buy a bottle of water, I have my own. Yeah, a metal Chilly one.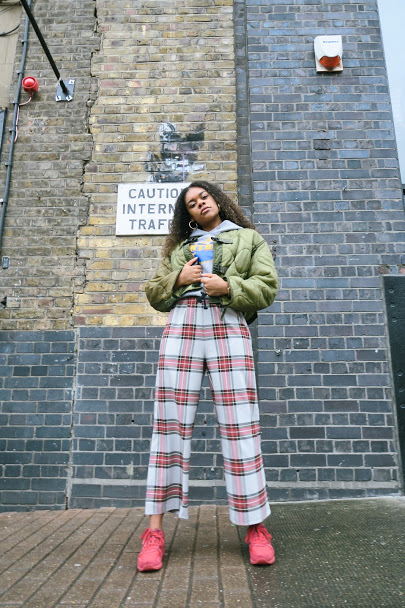 What is your favourite way to accessorise?
I like little nacklaces, like little small ones. Earrings I'm quite a fan of. Also a few rings, but not too many. Just a few on a finger.

Does music influence your style?
I guess it does in a more subtle subconscious way. So Rihanna's whole vibe in her Wild Thoughts video, I was like 'yeah I'm a fan'. I went and bought an off the shoulder top, was not anything near it. So many things she puts on, she looks so good.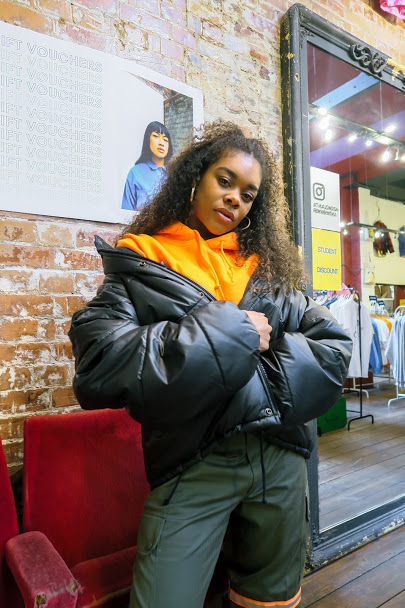 What is your favourite season to dress for?
I reckon probably spring because it's not too cold where I have to put on too many layers, but then it's not too hot. In summer it's hard because you can't go out in minimal clothes.

If you could only wear one colour for the rest of your life, what would it be?
I don't want to say black, but guessing it will probably have to be black. It can't be grey because in the summer that will be very problematic. I'll go with black, I'll brave black. 'I'll just be miserable and boring.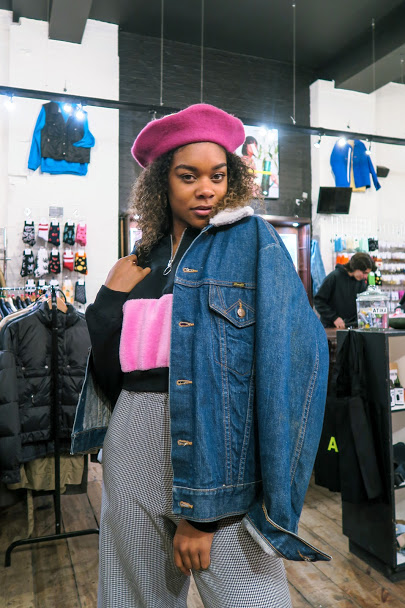 What is your favourite itme you own, and why?
I got through phases of having favourite items I have at home. At the moment it is this necklace, even though it is the tiniest thing ever. But, I think it just goes with a lot of things. But, then in like two months it will be something completely different.

What trend do you wish would go away and which to come back?
One I wish to go away would be those chunky fila, do you know the ones? Like bricks. I'm a fan of the chunky sole trainer, but that I just can't. I feel like thay have all come back, if you look hard enough they are all all there. If you come to somewhere like here you would find a lot trends like 90s.

Watch the interview down below:
Model: @ambersimonex
REMIX By ATIKA: @remixbyatika
ATIKA London: @atikalondon
Photography/Videography: @aroehzed
Pieces Styled:
Remnant Trousers
Cropped Drawstirng Hoodie
Buckle Jacket

Lace Slip Dress
Neon Crop

Cropped Zip Back Hoodie
Reflective Cargo Trousers
Puffer Jacket

Remnant Trousers
Animal Print Cami
Cropped Silk Shirt

Remnant Trousers
Fleece Zip Sweat
Fleece Trim Jacket